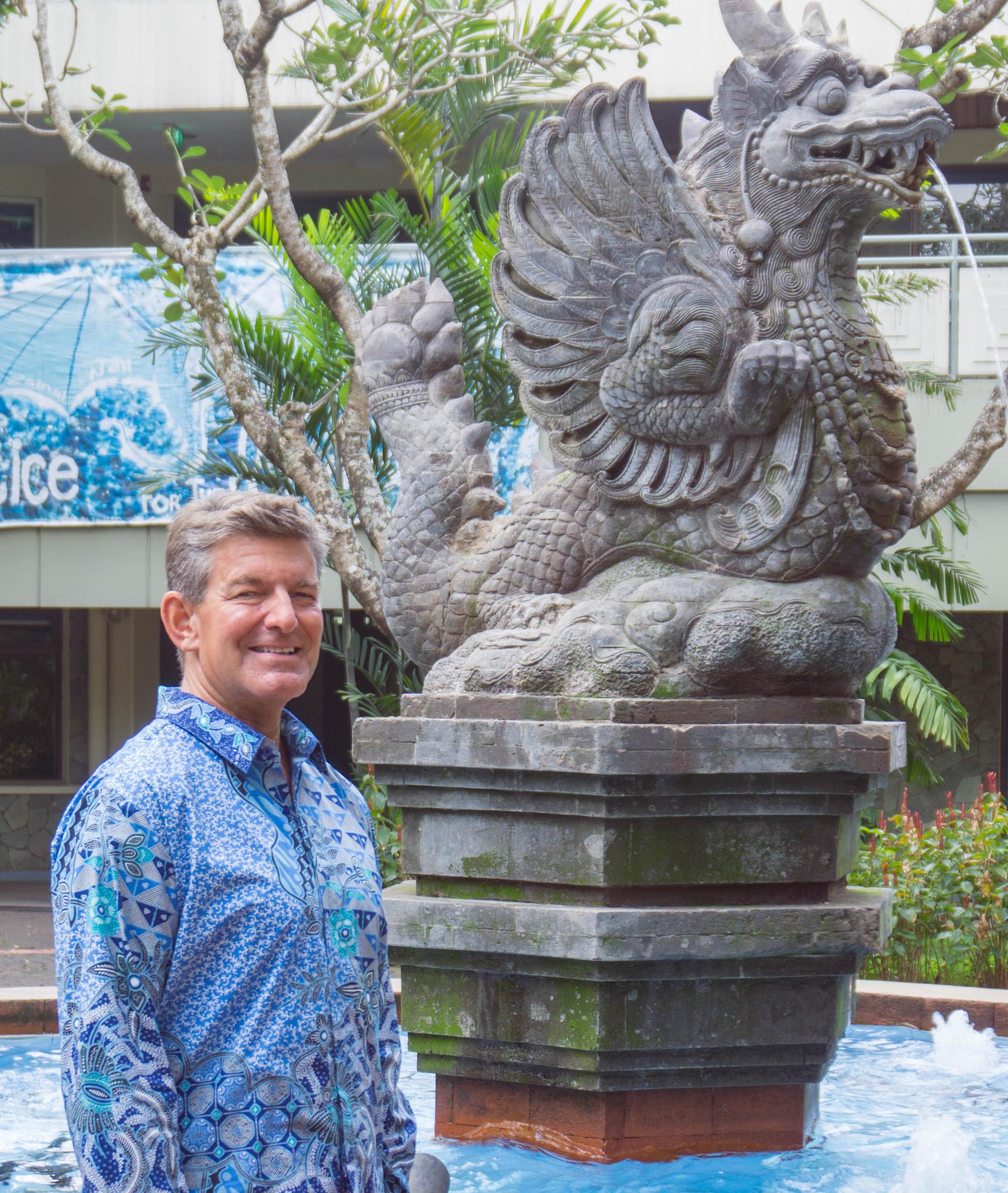 headofschool@jisedu.or.id
Dear JIS Alumni,
I hope that you and your families are safe and doing well. This pandemic has challenged all of us in different ways and I will be forever grateful for the support you have shown our school and Indonesia during this time.
This has certainly been an unprecedented school year with many ups and downs. But during these past few months, I was constantly reminded of the resilience and versatility of our students, parents, faculty, staff, and alumni, and could not be more proud of this community.
We are prepared for several scenarios that may take hold at the beginning of the school year. We have plans ready that will allow us to begin safely on campus in August as well as a robust home/online learning option that we can sustain for as long as we need it. You can find our plan here.
We have also presented a sabbatical option and contract opt-outs to faculty members that may have concerns returning to Indonesia for health or personal reasons. It is unfortunate that in times of crisis misinformation from uninformed sources spreads. I hope that if any of you have questions you will reach out to me or the alumni office.

It is with great hope and optimism that we look toward a new academic year with an even greater appreciation of what school means to our students and families.
We are excited to let you know about two online education programs that we are exploring. The first is to open up some of our High School Advanced Placement (AP) courses to online instruction for students across the region.
We are exploring a similar program for middle school students in Indonesian cities outside of Jakarta. These programs will be centered around blended learning and online instruction and will only be available to students that do not live in Jakarta. This is an opportunity for us to grow our community and further connect with Indonesia.
Please stay connected with us through the new JIS Alumni Platform and Facebook page to stay updated on the health measures and exciting new programs we'll be implementing.
To all our JIS Alumni, thank you again for your support and encouraging messages. You have our overwhelming gratitude for upholding the Dragon Spirit across the world!
Warm regards,
Dr. Tarek Razik
Head of School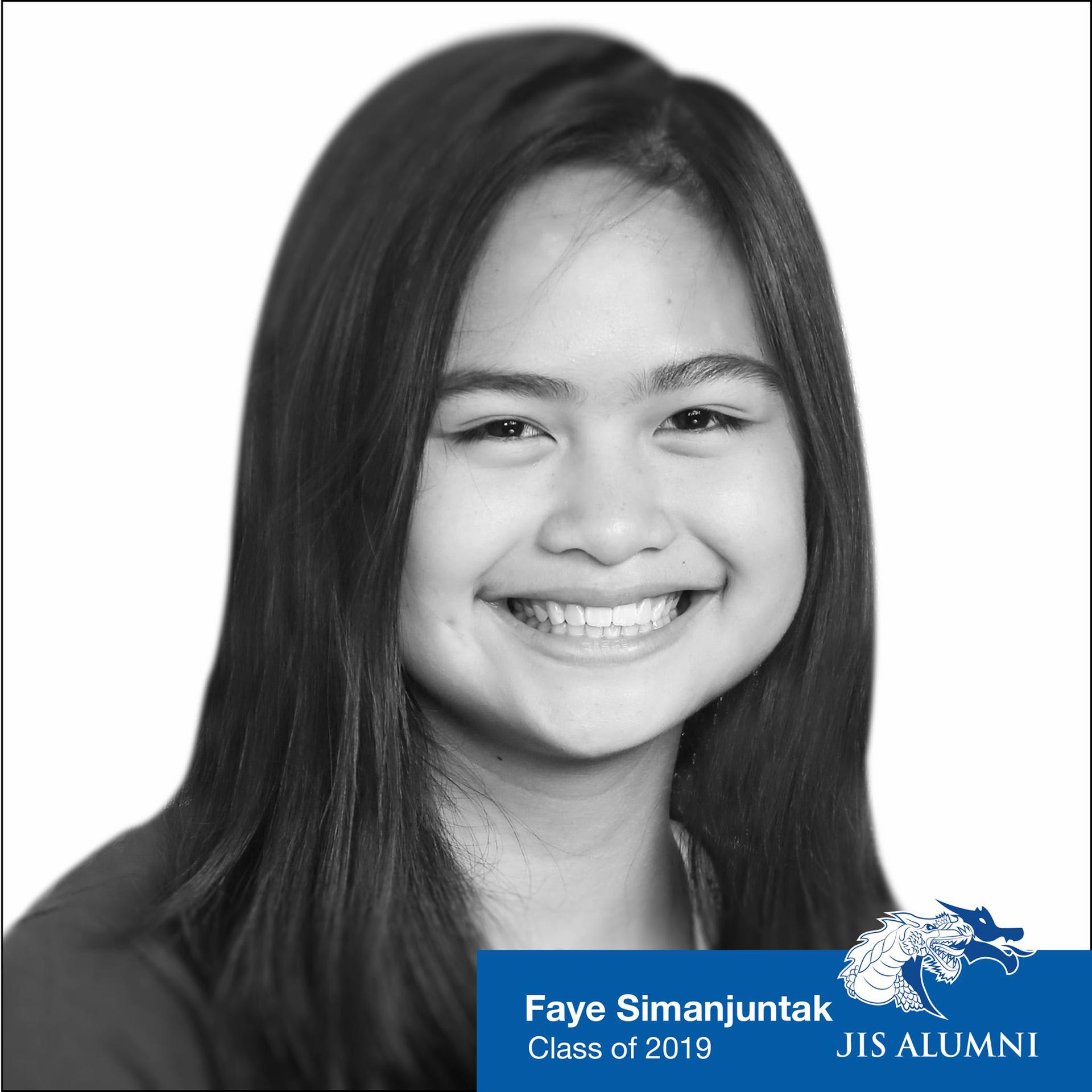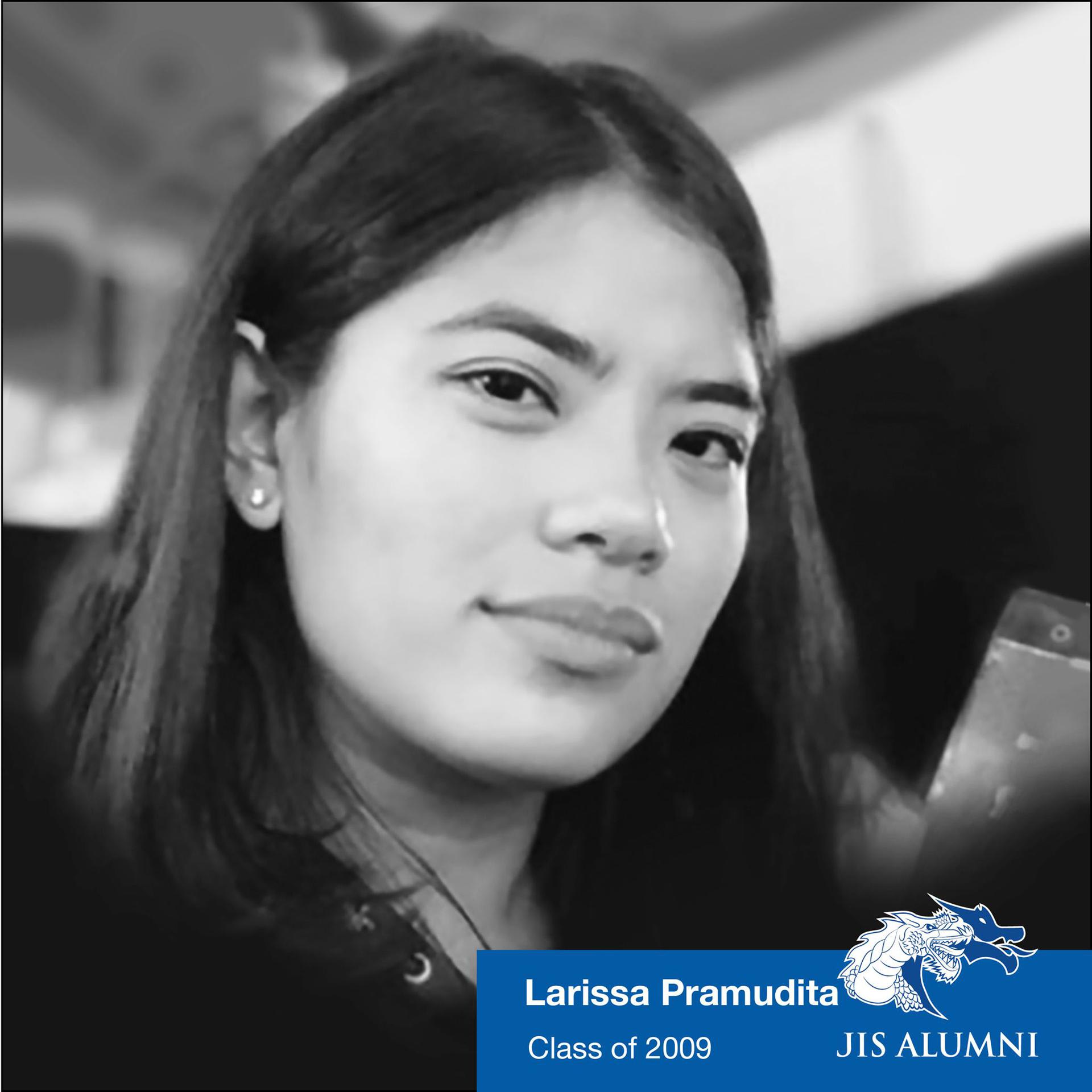 Forbes Indonesia 30 Under 30
We're proud to announce that JIS has not one but two alumni who made it onto Forbes Indonesia's 30 Under 30 list: Faye Simanjuntak (Class of 2019) and Larissa Pramudita Sidarto (Class of 2009).

Both Dragons were recognized as rising game-changers who are shaking things up with their bold, humanitarian approach to innovation.

Proving that you're never too young to make a difference in the world, Faye was only 13 when she established a non-profit organization called Rumah Faye to advocate for the rights of Indonesian children. She continues to champion for those in need and is working hard to eliminate child trafficking across the country.
As Director of Business Development and Marketing at blockchain firm HARA, Larissa uses her passion for utilizing data to promote financial inclusion and help small-scale farmers revolutionize the agricultural sector with blockchain technology. With HARA, she aims to empower farmers so they can improve their competitiveness and wellbeing.

Congratulations to Faye and Larissa for their amazing achievements as social entrepreneurs and thank them for inspiring us to be Best for the World.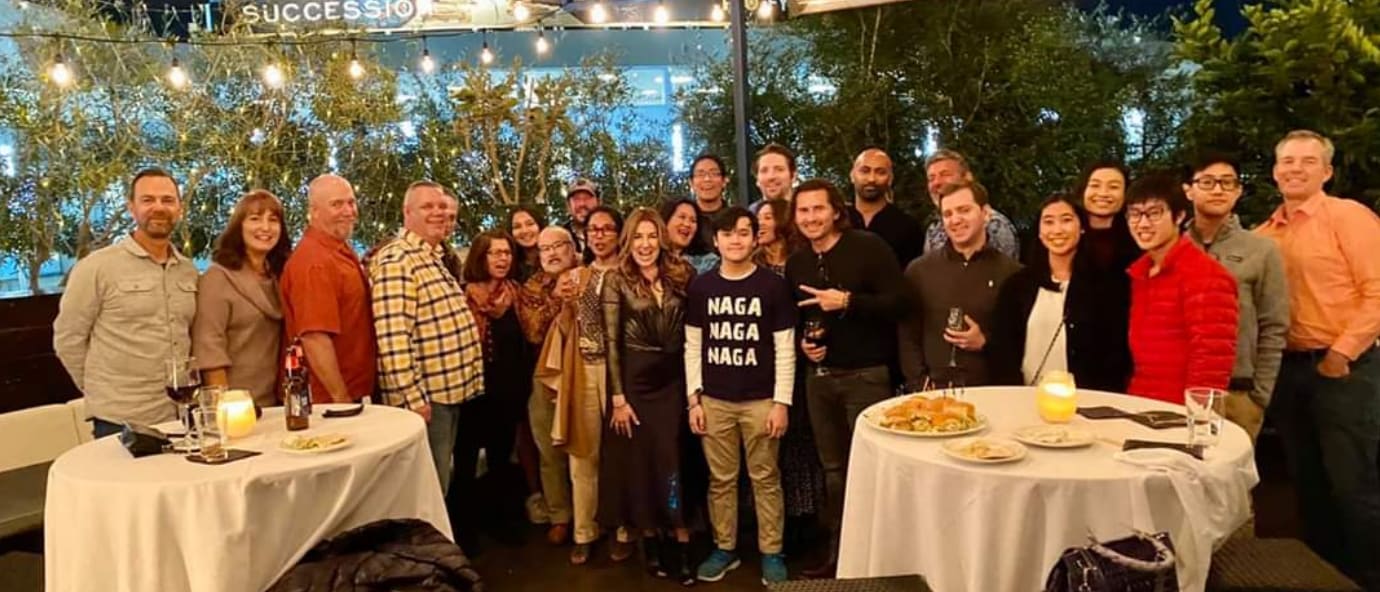 North America Alumni Mixer

JIS Head of School Dr. Tarek Razik had the opportunity to travel to North America earlier this year for Alumni Mixers in Los Angeles, Boston, and Toronto, where he had a wonderful time catching up with former JIS students. They exchanged stories about memorable moments at JIS and what they missed most about our school, and had plenty of questions about all our recent developments and progress.
These gatherings are just one example of the various ways we stay connected with our alumni around the world — not only former students but former parents as well. Their constant, invaluable support inspires us to provide every member of our community with unforgettable learning and working experiences in international education.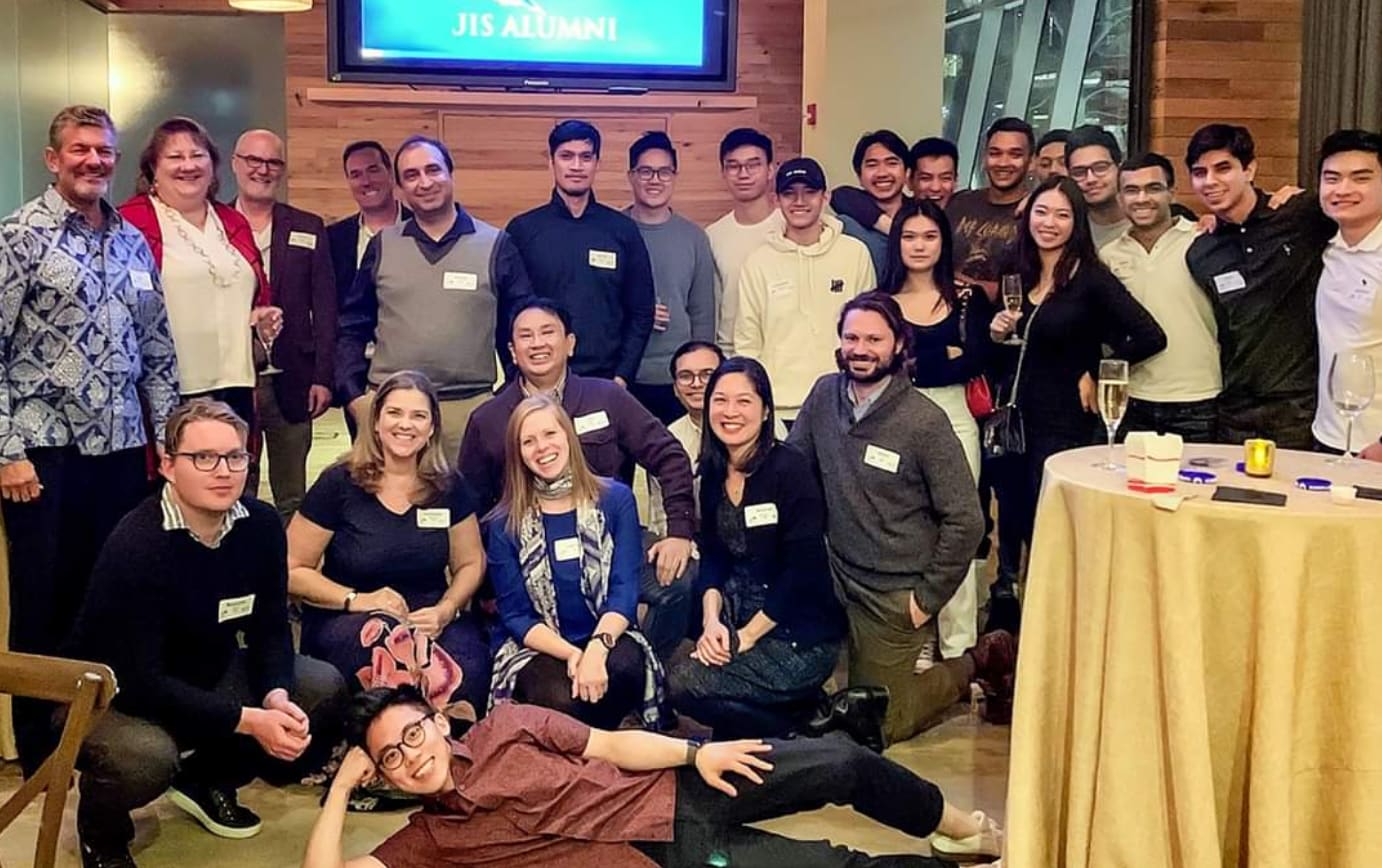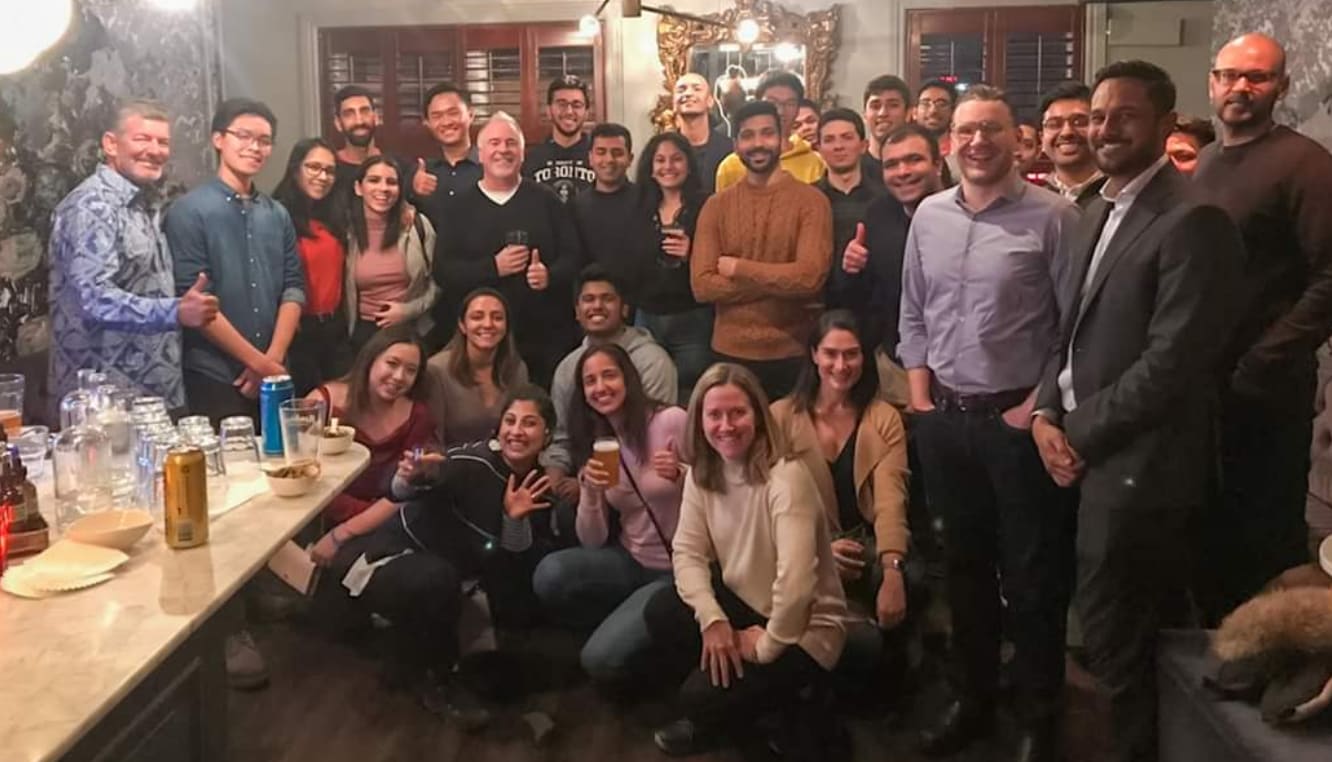 IASAS events are always a thrilling time here at JIS. A celebration of teamwork and sportsmanship, they are a wonderful way for students to meet young people from other schools who share their interests while also testing the skills they've worked so hard to refine.
Kicking off the second season of IASAS this school year was Chess, which took place in the form of virtual tournaments. Nine members of the team participated, with six players competing in five rounds of chess. All except one member of the team are new, so we have to applaud them for pushing through their first-time jitters to give it their all at every match.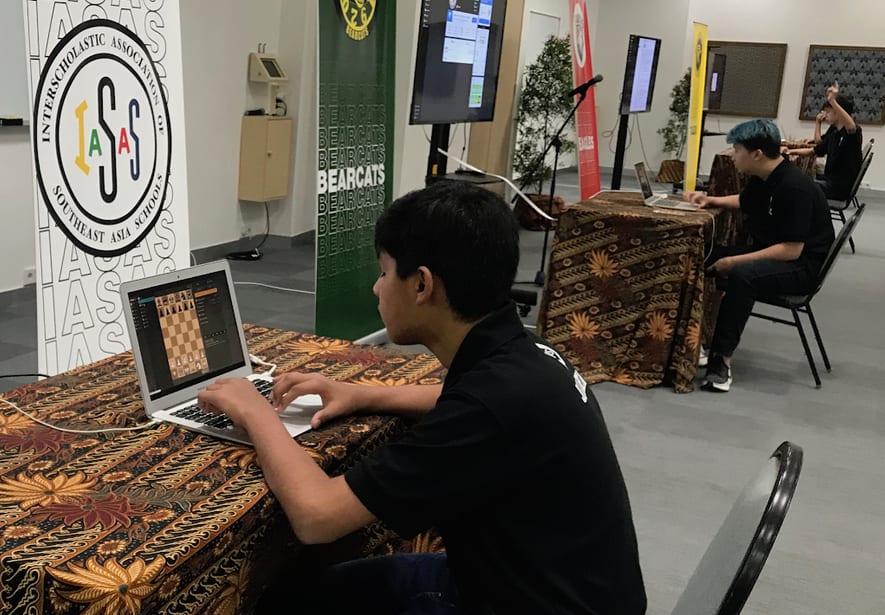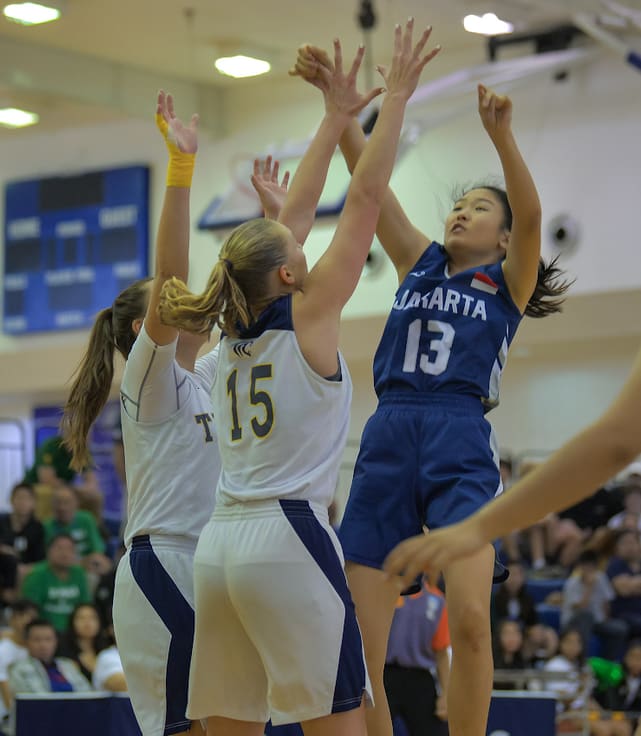 The IASAS Basketball championships, meanwhile, took place right here at the Cilandak campus and were enlivened by JIS Alumni who came in support of our Boys and Girls Varsity teams. Their cheers and words of encouragement were a tremendous source of inspiration for our players and also demonstrated the tight bond we have as a Dragon community. We cannot tell you how many visiting parents and coaches commented to us about what a great school JIS is; well organized, friendly people, and very welcoming.
On the same days, the JIS Swimming, Tennis, and Rugby and Touch teams were in Singapore and Bangkok showing off their Dragon spirit in IASAS competitions. To our dedicated athletes and coaches, please know that your unswerving efforts representing our school through sports are greatly appreciated. Naga, Naga, Naga!
Due to the rapid spread of COVID-19 in Indonesia and Southeast Asia at the end of February and early March, a number of regional events in which our students were scheduled to attend were canceled. While many of our Dragon athletes, performers, and coaches were disappointed, they understood that it was the right decision to make for their health and safety. Nevertheless, some schools, including those participating in IASAS, chose to improvise and came up with an alternative way of keeping the spirit of friendly competition alive.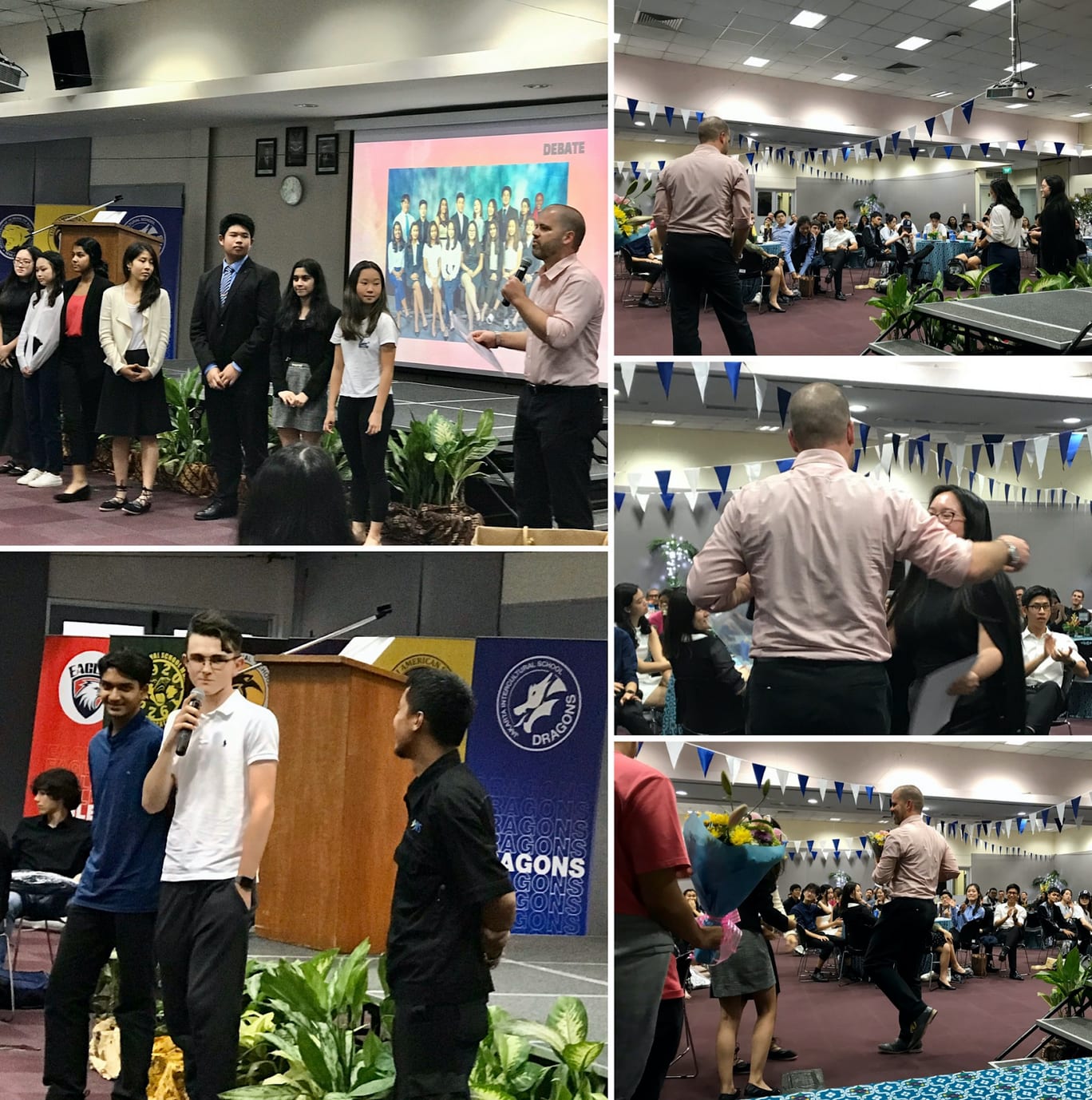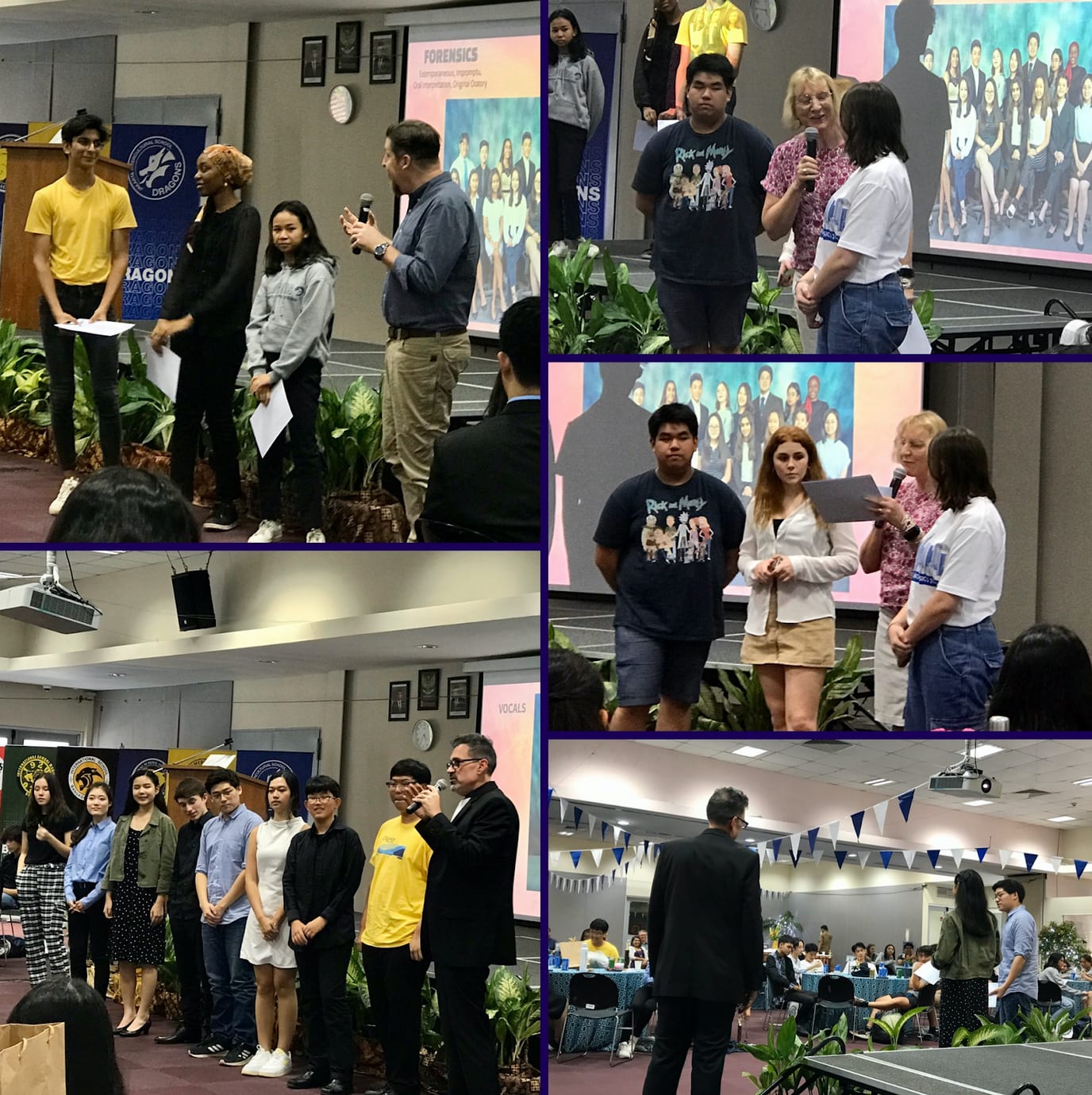 IASAS Showcase for Dance/Drama/Tech, Music and Forensics and Debate

Canceled travel plans did not deter participants of this season's IASAS Cultural Convention from displaying the various skills they've worked so hard to polish and perfect. They instead engaged in a virtual convention on March 6, which included Dance and Drama Tech, Forensics, Debate, and Music. All live debates were also open to spectators.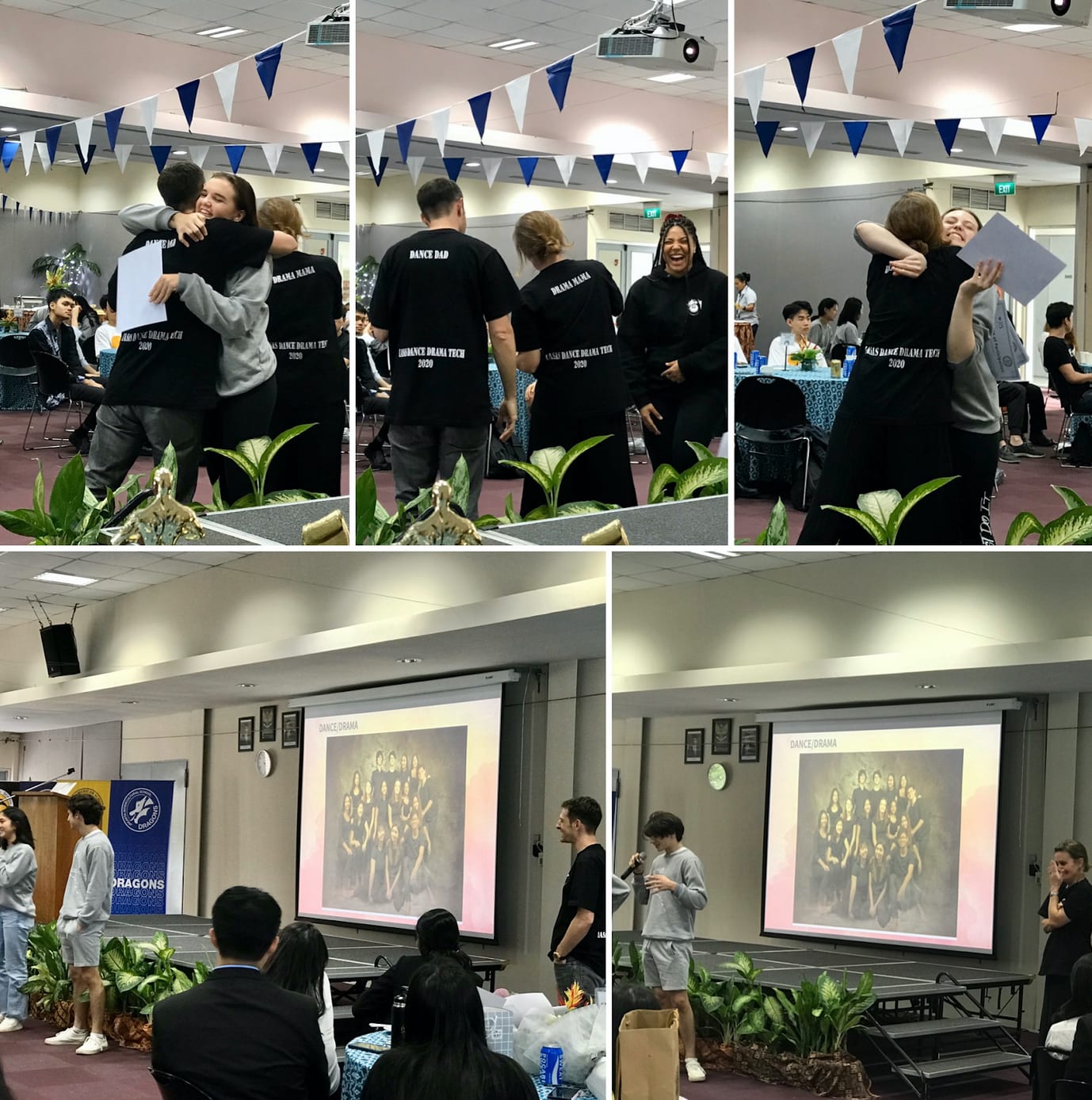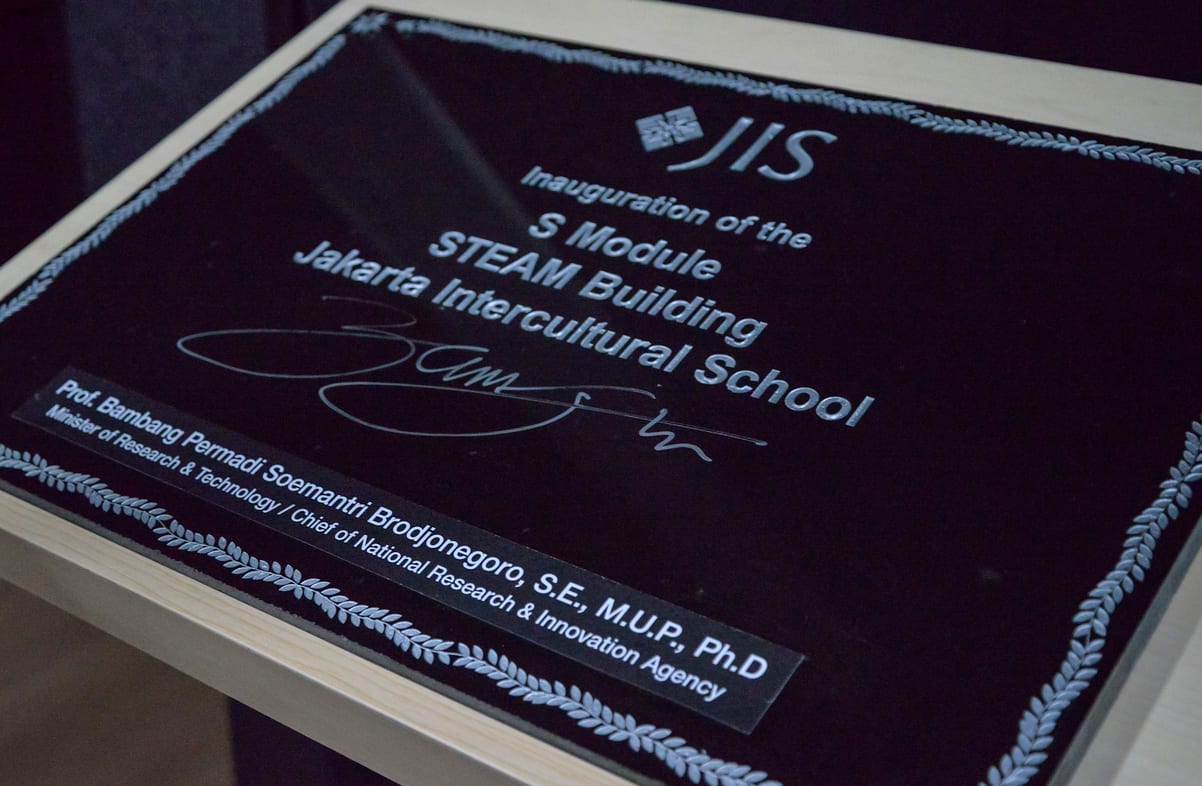 In January this year, JIS had the honor of welcoming Research and Technology Minister Bambang Permadi Soemantri Brodjonegoro and the Ministry of Education and Culture's Director of Middle School Development, Poppy Dewi Puspita, to the inauguration of our Middle School S Module and STEAM building. Their attendance at this special occasion was a sign of JIS's increasingly strong ties to Indonesia. And with the help of our amazing new STEAM facilities, we will be able to further support our host country to fulfill its educational goals for Industry 4.0.
As many of you know, we launched our revamped JIS Alumni platform in April with some brand new exciting features! You can now search for your fellow Dragons, network with other JIS Alumni, apply for a JIS Alumni ID, and browse our archive of past yearbooks. Last but not least, you have the chance to leave a message that everyone can read on the Dragon Message Board.

An additional section we are in the process of building is Dragon-Owned Businesses. If you own a business (restaurant, hotel, etc.) and would like us to help you spread the word to fellow Dragons, you can fill out this form after you sign in to the Alumni portal. Note that this feature is not available to view yet but only to submit your data. Once it goes live, we will share this list with the entire JIS Community.

If you do not have access to the platform yet, click here to register.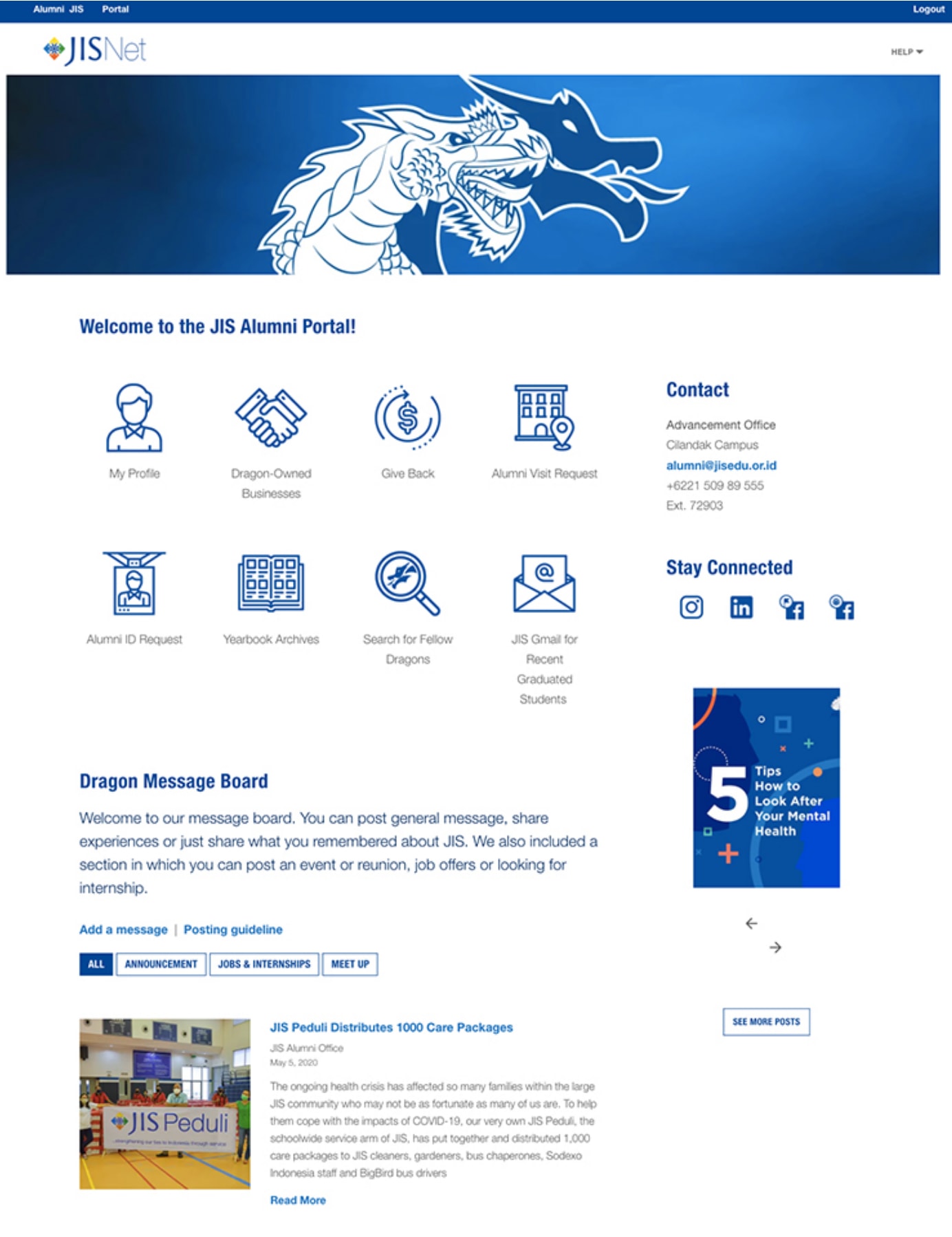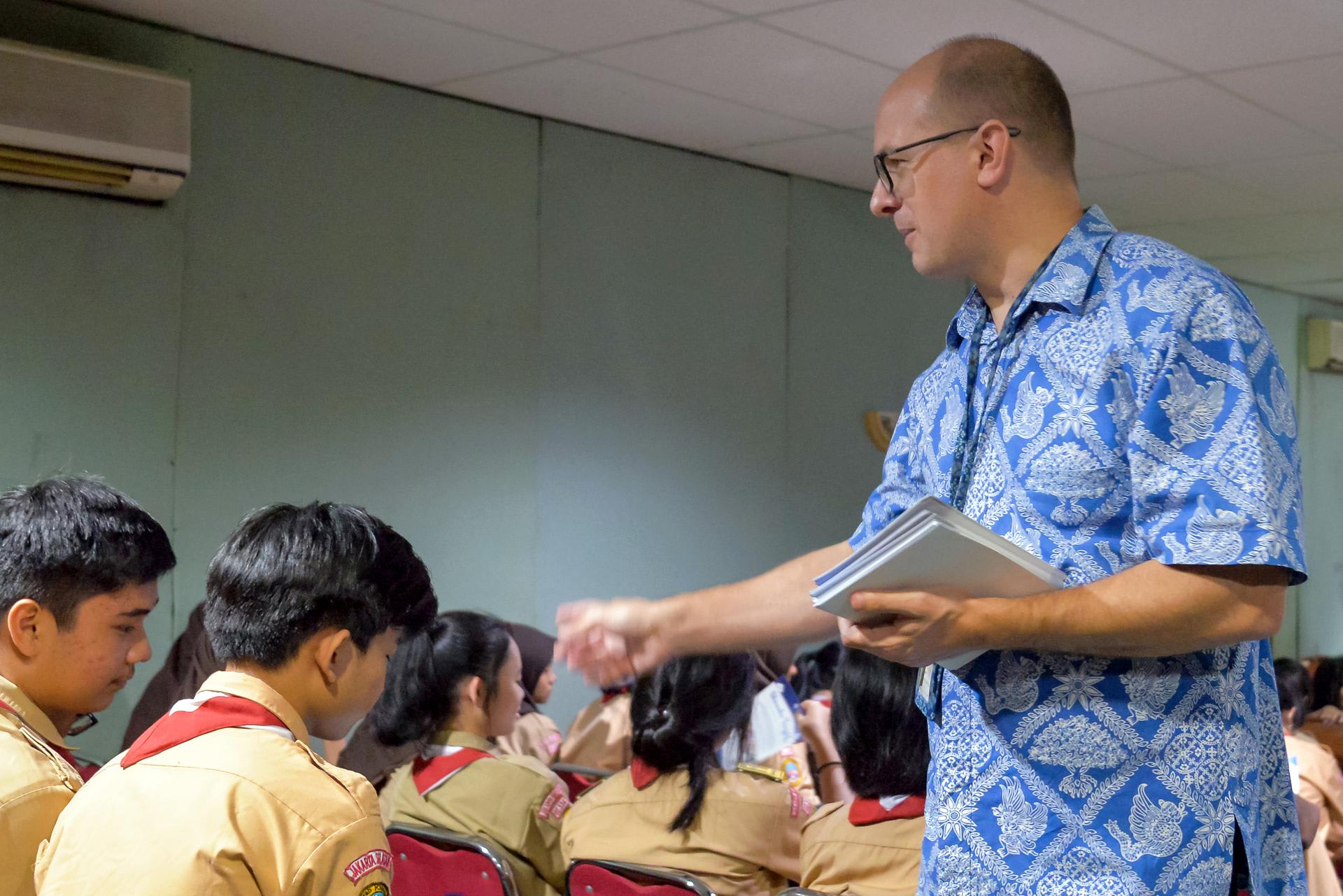 Bhinneka Tunggal Ika Scholarship
In our previous JIS Alumni Newsletter, we updated you on the third year of JIS's Bhinneka Tunggal Ika (BTI) Scholarship and our search for a new batch of recipients. We're happy to announce that after visiting six state schools in Jakarta and promoting the once-in-a-lifetime opportunity within our own community and social media, we received 137 applications from across the country. This is the most we've gotten so far and we are thrilled by the amazing response!

The JIS Scholarship Committee has concluded the selection round with online interviews, and we are excited to say that we have one new BTI Scholar that will be joining JIS for the 2020/21 academic year in August!

If you would like to know more about our BTI program and how you can help support the initiative, please visit our scholarship site.

In support of our host country's efforts to curb the spread of COVID-19, JIS Peduli partnered with the newly formed Artha Graha Peduli (AGP) COVID-19 Response Center to provide 1,000 home-care sanitation kits to families living around the Cilandak campus in South Jakarta.

We could not have done this without the help of JIS Alumni Phil Rickard (Class of 1986) Kurt Kaler (Class of 1989), Danau Tanu (Class of 1994), Yanti Ardie (Class of 1994), Derice Sumantri (Class of 1997), Richard Olsen (Class of 2002), Bianca Vega (Class of 2010), and Kiran Sarensa (Class of 2012), who helped organize the initiative and distribute the home-care kits.
The health crisis has also affected many families within the large JIS community, such as cleaners, gardeners, bus chaperones, and Blue Bird drivers — essential workers who keep the necessary cogs of our school running. To help them cope with the impacts of COVID-19, JIS Peduli handed out 1,000 care packages containing cleaning and sanitation products, as well as face masks.
One of our school's many service learning partners is a wonderful non-profit organization called Gerakan Kepedulian (GK), which aims to eradicate poverty by empowering low-income communities across Indonesia. We have our own GK chapter made up of JIS Middle School and High School students who run many important initiatives each year to support GK Indonesia.

Middle School Science Teacher Richard Miller, for example, designed and tested face masks that were then made by seamstresses from the GK Mustikasari community. They created 2,500 face masks that were partly donated to low-income neighborhoods and sold to further fund GK Indonesia's efforts. The Share Your Care, meanwhile, invited JIS Dragons to sponsor a GK family or a JIS BigBird driver, many of whom have been struggling to keep their loved ones safe during the pandemic. The fundraiser raised enough funds to distribute 200 care packages for these valued members of the JIS community!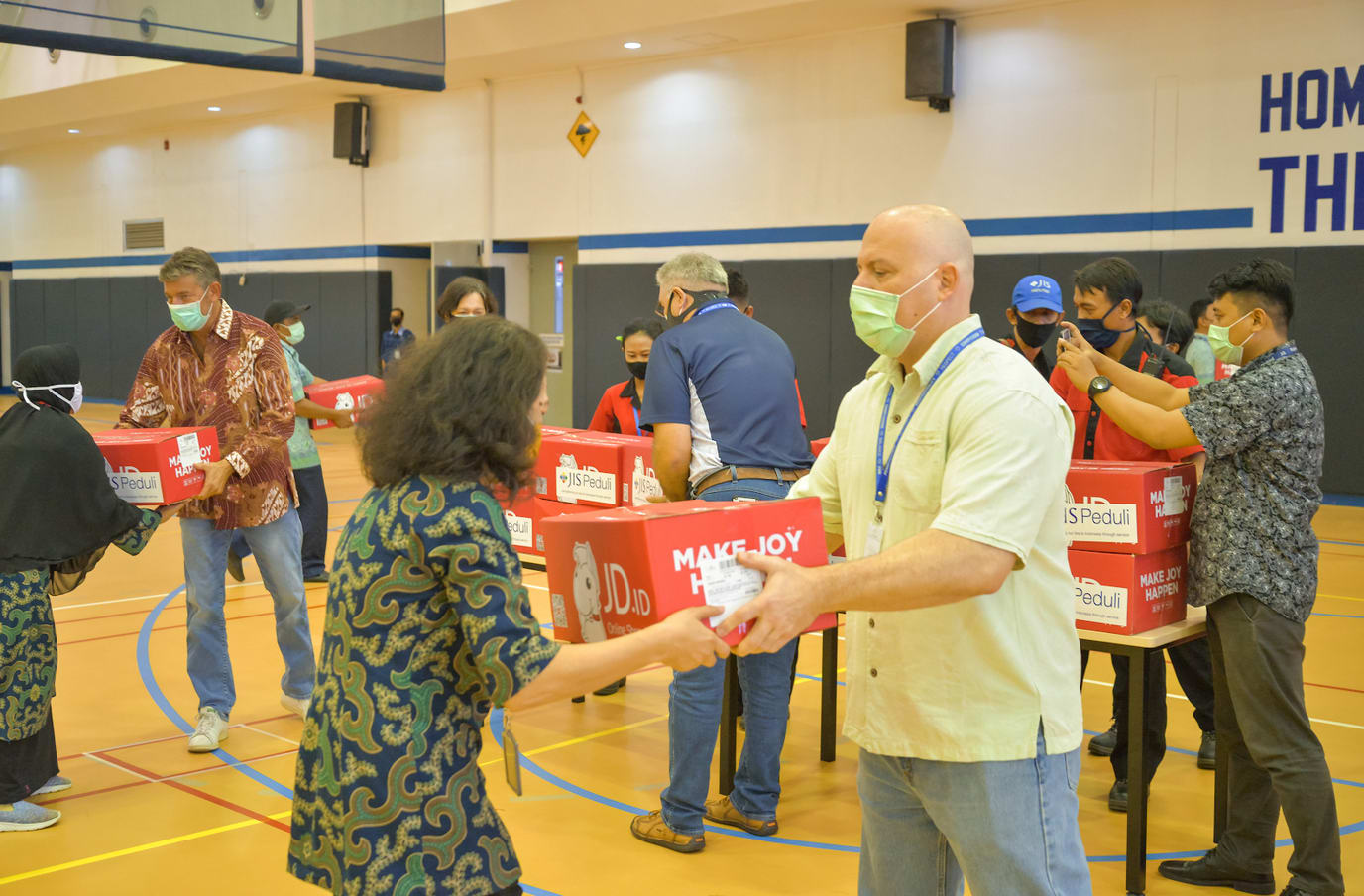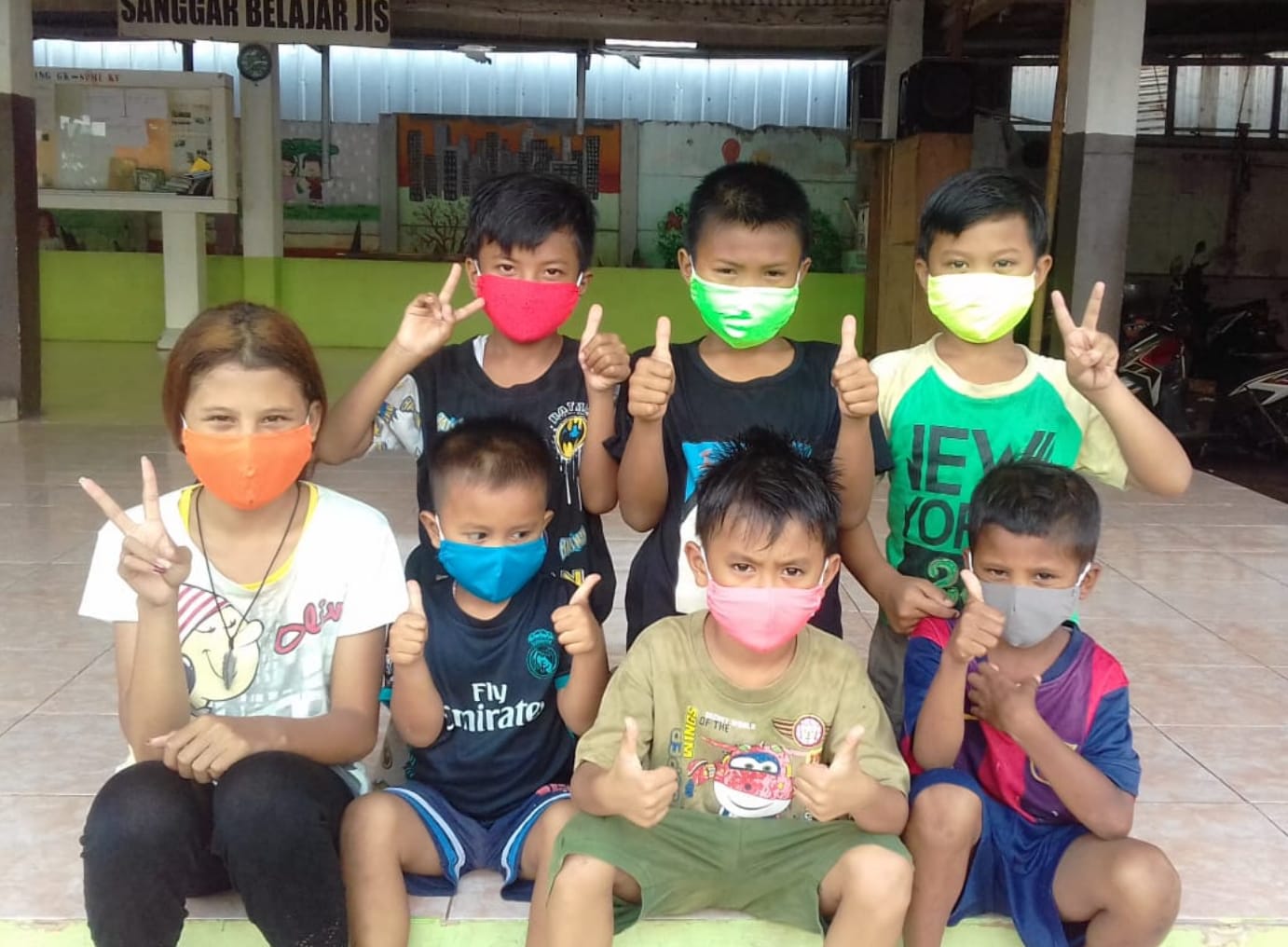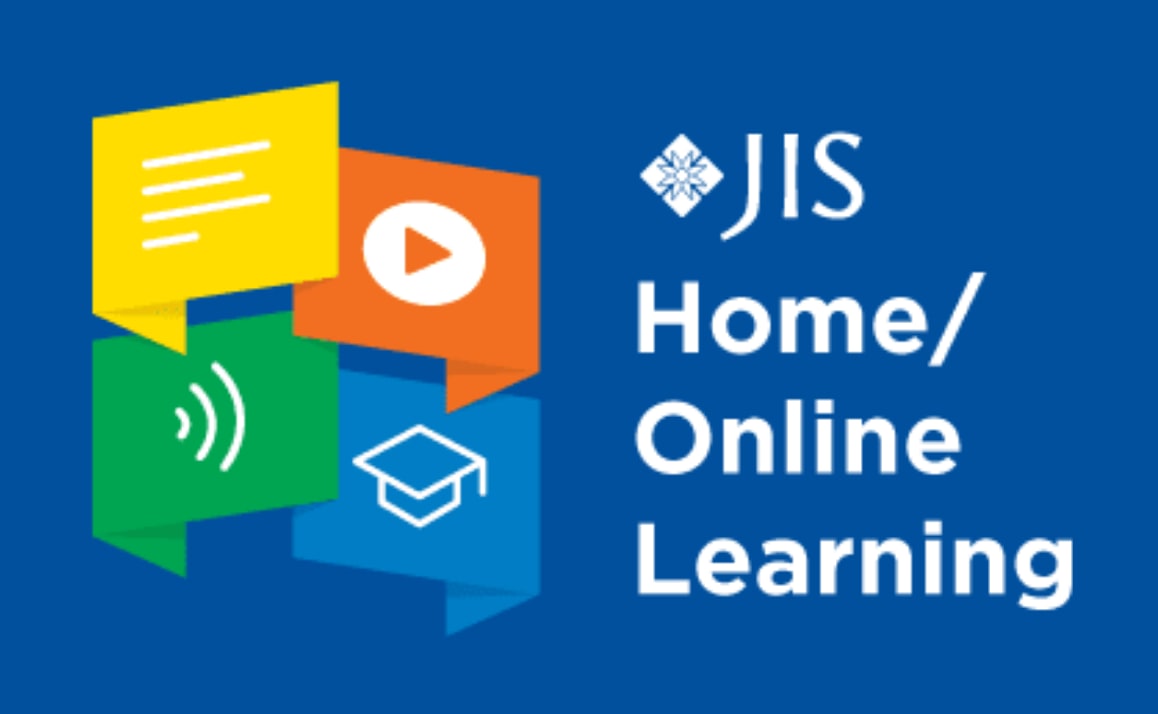 Shift to Home Online Learning
Due to the rapid spread of COVID-19 in Indonesia, JIS decided to suspend in-class learning from March until the remainder of the school year.

While the health and safety of our students are of utmost importance, we were also aware that their learning journey for the 2019/2020 academic year must not be interrupted. For this, we turned to the leading-edge innovations we are fortunate to have at our disposal and expand on them with added vision and ingenuity — thanks in no small part to the talented IT Department and our skilled teachers.

Students received lessons through virtual support, time-bound tasks, and timely feedback from their teachers. It was a new approach that took some time to get used to, but our students once again showed their resilience and resourcefulness as JIS Dragons by adapting to the temporary "new normal" with confidence.

Due to physical distancing rules still in place across Jakarta, the JIS Class of 2020 unfortunately missed out on a traditional graduation ceremony with close family, friends, and teachers. However, we were able to give them a day to look back on with fondness and care packages that will remind them of their time at JIS. A full web page was developed to celebrate this milestone with goodbye messages from faculty, video performances, profiles and parting words from graduating seniors, and a congratulations video from you- our alumni!
Congratulations to the Class of 2020 and welcome to the expansive JIS Alumni community!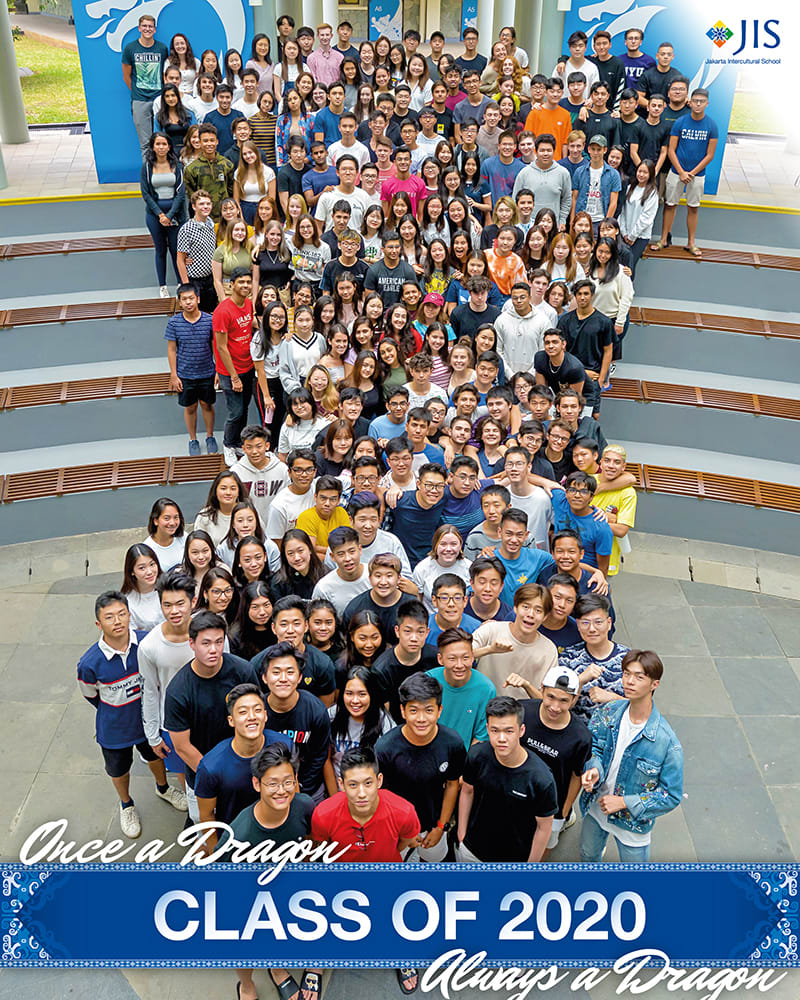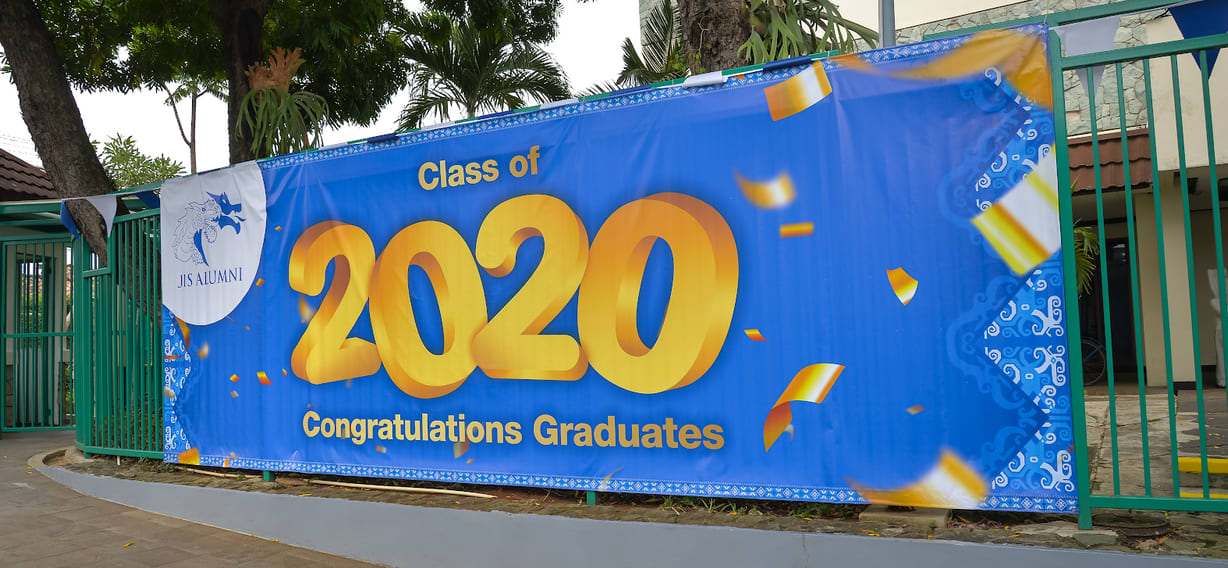 We have more old yearbooks uploaded on the new portal. If you have not registered yet, you can do so now just follow this link.
Do you have any photos that you would like featured in the next Alumni Newsletter? If so, please send them to us with a short note and we'll help share your memories of JIS with all of Dragon alumni worldwide.

© 2020 Jakarta Intercultural School | Jalan Terogong Raya No.33, Jakarta - 12430, Indonesia